Page 1 of 4 • 1, 2, 3, 4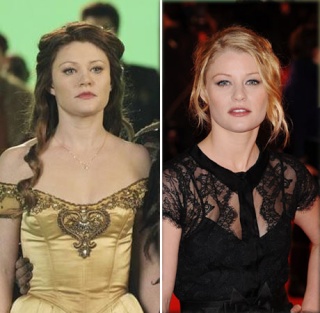 Name:
Belle
Memorable quote(s):
"No one decides my fate but me!", "If I'm never going to know another person in my whole life, can't I at least know you?"
Belle
Belle is a princess whose town is under attack by ogres. We first meet her, when Rumpelstiltskin offers to protect the town - in exchange for Belle's servitude. She is taken to the Dark One's Castle and is promptly thrown into the dungeon. Throughout her stay at the Dark Castle, Belle forms a friendship with Rumpelstiltskin. He later allows her to go to town, saying he expects her never to return.
While walking in the forest, the Evil Queen's carriage stops on the road. She informs Belle, that true love's kiss can break any curse. She then returns to Rumplestiltskin (much to his surprise), in order to kiss him.
Although his curse visibly starts to disappear, he believes the Evil Queen was behind it, trying to take his powers away. Refusing to believe Belle's claims that she truly loves him, he imprisons her in the dungeon, later telling her to leave his castle and never return.
It is later claimed by the Evil Queen that Belle's father, Maurice, shunned her when she returned home, and locked her in a tower, forcing her to undergo an exorcism (cleansing) of sorts. The Queen also claims Belle killed herself by jumping from the tower.
When Rumpelstiltskin gives Prince Charming the True Love Potion to hide, he admits to him that he found his true love once, describing her as a "brief flicker of light amidst an ocean of darkness".
In Storybrooke, Belle is being held hostage in a mental institution by Regina/Evil Queen.
In the season 1 finale, Jefferson breaks her out of the hospital and directs her to Mr. Gold who he claims will protect her from Regina.
Belle retains her memory when Emma breaks the curse and she and Rumpelstiltskin profess their love for each other.
Played By:
Emilie de Ravin
Twitter
Facebook
IMDb
Last edited by SW7_PC2 on 9/23/2012, 12:38 pm; edited 1 time in total

SW7_PC2

Head Admin





Posts

: 2120


Join date

: 2012-06-05


Location

: Oklahoma



playarita wrote:I actually love how their romance is progressing. It actually has potential to be stronger than "true love" then what anyone realizes. These two want to help each other. Rumpelstiltskin will give Belle the reality check and loss of innocence ( ;P ) she needs, and Rumpelstiltskin needs her love to remember why he became the dark one, and to have the humanity he has left in him (that he believed was gone) to be nurtured.

Aside from maybe Snow and Prince Charming, I feel as if "true love" seems to be a little too vapid to be satisfying (I say this when I think about Cinderella--don't get me wrong their love is cute but I don't know if I would call it true love, Aurora). I think that Snow, and Emma have shown a greater capacity of true love then the others.

That said, I do think that Belle and Rumpelstiltskin's love will go far deeper and much longer lasting.
me likey
Page 1 of 4 • 1, 2, 3, 4


---
Permissions in this forum:
You
cannot
reply to topics in this forum