Page 1 of 3 • 1, 2, 3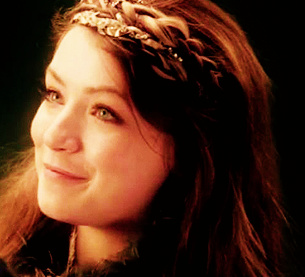 Name:
Princess Aurora
Bio:
The beautiful and daring Aurora found herself the victim of a sleeping curse cast by the wicked Maleficent. While trapped in her magical slumber, The Evil Queen cast The Dark Curse, transporting everyone in The Enchanted Forest to Storybrooke, except for a small area of the land that was somehow protected. Luckily for Aurora, she and her beloved Prince Phillip were among those that were spared. When Emma broke The Curse and time began to move again in Fairy Tale Land, Phillip was finally able to free Aurora from the sleep spell using True Love's Kiss. When Aurora awoke to a post-Curse land, she met Phillip's traveling companion, a mysterious warrior named Mulan. The trio also encountered a Wraith—a soul-sucking creature that marked Phillip. The courageous Prince allowed the Wraith to take his soul in order to keep Aurora and Mulan safe, but leaving Aurora to wonder if there was more to her beau's relationship with Mulan than just friendship.
Played by:
Sarah Bolger
IMDb
Twitter
Last edited by wileycatpp on 9/5/2013, 12:03 pm; edited 1 time in total

wileycatpp

Head Admin





Posts

: 1997


Join date

: 2012-06-05


Location

: Third rock from the sun



I have this thought in my head.

What if Aurora's mom stole Maleficent's lover/husband. What might be more interesting is what her status could be (maybe a handmaiden or a lower noblewoman etc). Then we see that their affair is made known. Maleficent instead of immediately confronting them learns dark magic so that she can curse them.

Then we see that Aurora's mother is pregnant. Maleficent casts the curse causing her to be placed under a sleeping curse. Maleficent hides Aurora's mother away but not to necessarily make her ex search and find her. Rather have him search and search and when many years have passed only then does Maleficent lift the veil to have him find Aurora's mother.

Only then he has is an old man. Aurora's mother is a young woman. She gives birth to Aurora and the real curse is that a short time later her true love dies.

Later she realizes that Aurora might have been cursed as well or least may suffer for the sins of the affair. She hides Aurora as best as she could but Maleficent goes after Aurora because she is the product of true love. She is essentially the child she could have had.
Page 1 of 3 • 1, 2, 3


---
Permissions in this forum:
You
cannot
reply to topics in this forum