Page 2 of 7 •

1, 2, 3, 4, 5, 6, 7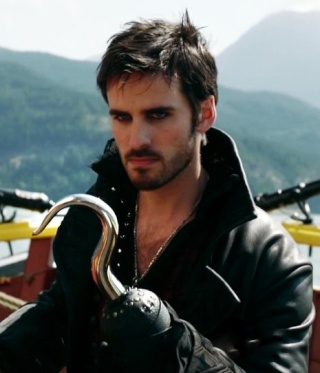 Name:
Capt Hook/Killian Jones
Bio:
Capt Killian Jones AKA Capt Hook is a confident pirate who never backs down from a fight; a man who seeks to crush and humiliate his enemies. But he also has the meticulous style and manners of a proper gentleman.  He met and fell in love with Rumplestiltskin's wife.  When Rumple went to beg for the release of his wife Killian challenged him to a duel.  Rumple declined fearing his own death and leaving his son without a mother or a father.  Years later after Rumplestiltskin became the dark one (and Bae disappeared thru the portal)he ran into Capt Jones again challenging him to a duel. When he was about to rip out Killians heart, Milha shows up  to make a deal.  She has a magic bean and will give it to Rump in exchange for Killians life.  Rumple first agrees to the deal then tears out Milhas heart when she claims she never loved him.  Then he cuts off Killian's hand to retrieve the bean he held.  Killian attacked Rumple with a hook but it didnt even hurt the dark one.  Capt Jones swore revenge for the murder of Milha and the loss of his hand.  He uses the bean which he managed to hide from the dark one to open a portal to Neverland, where he would not grow old so he could plot his revenge. 
Played By:
 Colin O'Donoughue
IMDb
Twitter
Last edited by wileycatpp on 9/5/2013, 11:36 am; edited 5 times in total
_________________
All Magic Comes with a price Dearie
"It was a brief flicker of light amidst an ocean of darkness"

wileycatpp

Head Admin





Posts

: 1997


Join date

: 2012-06-05


Location

: Third rock from the sun



genajamm wrote:

wileycatpp wrote:

SW7_PC2 wrote:

Still a prick! And you know it, you just don't want to admit it, cause you LOVE him!

He is a prick to Charming all the time, takes advantage of people in need! Yes, they get into it, but we are not talking about THEM, lol! We are talking about Rumple and he is not a nice man (he can be when he wants to, as can Hook) but Rumple is rude and mean to people.

Again, it is in his Character description. Coward and Prick. Sorry

He is not a prick or a coward he is tragically misunderstood. And he has done nothing but help the charmings out. If you ask me they are a bunch of ingrates

And i have yet to see capt hook nice to anyone. LMAO

HAHAHA YEA WHAT SHE SAID!!! HE IS NOT A COWARD,,,,,HIS WIFE WAS NOT WORTH FIGHTING FOR!!!

WHY BOTHER GOOD RIDDANCE,,

AND HE REALLY IS THE ONLY REASON PC,, FOUND SNOW TO KISS HER AND SAVE HER

SOOOO RUMP GOOD ,, HOOK BAAAAD,,

HOOKERS
You know, Gena, Wiley, It really disappoints me that you see it this way. Take the blinders off, you all need serious help. I am worried for you both if you think Rumple is a good guy just misunderstood. I love you both too much to let this go on any longer. You can love him for being a villain and bad or not at all! LOL!
Page 2 of 7 •

1, 2, 3, 4, 5, 6, 7


---
Permissions in this forum:
You
cannot
reply to topics in this forum